Action Tracker
The Action Tracker is a proven tool for documenting actions coming from working with survey results, for registering the progress of implementing actions and for generating an overview of the status of the implementation process for parts of the organization or for the whole organization.
Taking the right action as project manager
How to make sure that actions resulting from any survey are effectively documented and implemented? After having received all the data coming from valuable feedback of employees or customers it is vital to put an effective implementation plan in place for the results of the survey will bear fruits.
From action planning to measuring implementation success
The added value of any survey is closely linked to the quick and successful implementation of the essential and concrete actions defined. If employees and customers get the feeling "My feedback is taken into account and actions are taken", confidence and trust into the usefulness of the survey increase, and response rates will rise.
How is it possible to document the implementation progress of already adopted actions and measure their success at the same time?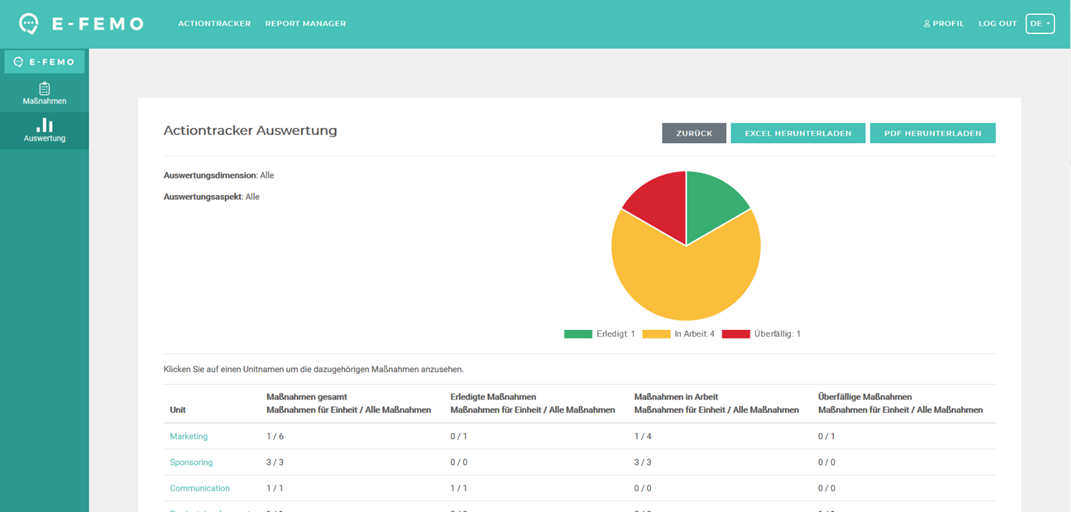 With the E-FEMO-Action Tracker (web-based) every authorized person in the organization chart can define new actions, document results and track the implementation progress.
---
Your benefits

Efficiency increase in the follow-up processes after the survey

User-friendly data handling and ideal retrievability without any training requirements

Easy user management due to controlled access rights to different corporate areas

Fast, real-time availability of information (reports and actions)

Less work for corporate IT when using web-based tools