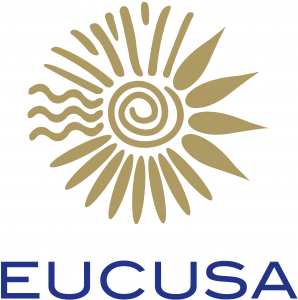 Results of EUCUSA Homeoffice Check: mood landscape whilst working from home during COVID-19 crisis
---
May 27, 2020
The COVID-19 crisis has been following us over the past ten weeks. Many office workers had to move their workplace to their homes following the governmental lockdown measures. Subsequently, EUCUSA initiated the tool "Homeoffice Check" and gained decisive and valuable insights.
Workplace and work conditions were decisive for a good overall satisfaction
All survey participants were overall able to deal very well with the working from home situation. The EUCUSA Index showed 1.8 on a 6-point Likert scale (1=best value, 6=worst value) and was placed in the green area of the traffic light color system. Out of three researched dimensions, "Workplace" (1.7) and "Work conditions" (1.8) got very positive results. The dimension "Communications" was a little behind (2.0) but still in the green area.
The most important aspects: concentrated work and functional technology
The survey participants considered the aspects "I can concentrate very well working from home", "All digital communication channels work perfectly when working from home." and "Digital equipment" ("I have all digital options to complete my work during home office.") as most relevant. The majority was very satisfied as the digital equipment seemed to work well right from the beginning. The only exception, households with children saw the aspect "concentrated work" as well as digital equipment as rather problematic.
The aspect "provision of basic needs" such as food was the least important topic regarding the level of satisfaction whilst working from home, as food and other basic needs were always catered for.
Digital communications cannot replace social face-to-face contacts
The statement "The lack of social contacts is compensated by a higher level of digital communications." was considered most difficult and only achieved 3.1 on the six-point scale, and is hence the only aspect in the red area of the traffic light color system. The contact with the manager as well as with colleagues as well as the availability for the customers were considered as sufficient. However, they miss the emotional side such as small personal encounters, the chats in the coffee area which are important for team spirit, motivation and good ideas. Digital communication channels cannot replace that. The lack of face-to-face contact affects everyone, in particular younger people up to 40 years without management responsibility, people with children and working in companies with 50 to 250 employees, and men rather than women.
Working from home as a future work scenario?
The readiness to work from home after this crisis has ended is overall quite strong. 82% have either fully or slightly agreed to this statement. Women with children show a specifically positive attitude, a little more than men, under 24-year olds as well as people working in companies with 11-50 employees. The people who had already worked from home before COVID-19 considered the working from home situation more positively than those who had not. Specifically, women with children were more ready to work from home for good reasons, having to manage different roles. The price of a decrease of quality regarding the work situation was hence accepted.
The positive attitude regarding working from home has increased after mid-April, and also the faith in a secure workplace increased towards the end of the survey period. Only one-person businesses were afraid of losing their jobs and have more problems dealing with the exceptional situation but are at the same time more familiar with working from home.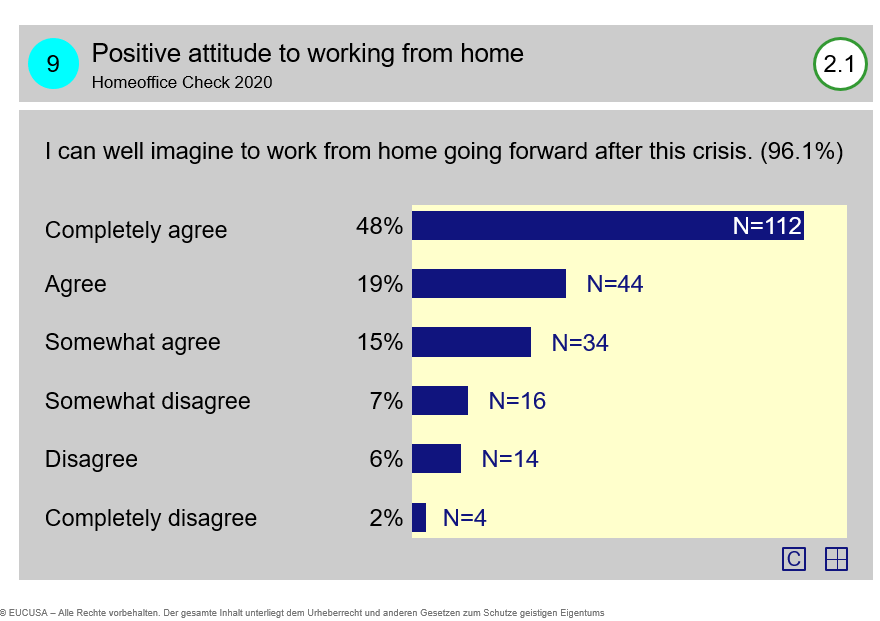 The basic parameters
The short online survey was available at www.homeoffice-check.com . No registration required, any answers were anonymized and evaluated as part of all given answers together. Participation was free, the invite was sent via the EUCUSA newsletter, XING and LinkedIn as well as via personal invites, e.g. during virtual events.
233 answers were evaluated.
Statistical data voluntarily given by the participants:
121 women, 92 men

Under 39 years old: 62 people. Between 40-55 years old: 101 people. Over 55 years old: 49 people

Households with children requiring care: 0 (149 people), 1 (34 people), 2 or more (19 people)

109 managers, 101 employees without management function

Company size: 13 one-person businesses, up to 10 employees (44), 11 to 50 employees (39), 51 bis 250 employees (27), more than 250 employees (87)

Experienced in working from home before COVID-19: yes (129 people), no (81 people)
Download attachment to Homeoffice Check
here
.